Mural Street Art from South Africa
After the cultural revival, Woodstock has become the arts mecca of Cape Town. Woodstock, the oldest suburb of Cape Town, was the well-known seaside resort of Papendorp with a wonderful beach in the mid-19th century. Industrialisation followed a little later with visible wounds in the tranquillity.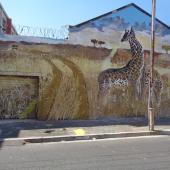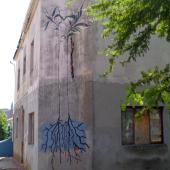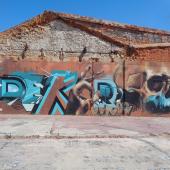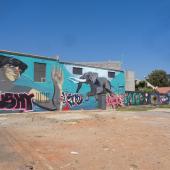 With these changes, crime crept into Woodstock and the district became a no-go zone. This dramatic decline was halted with the beginning of urban renewal in the early 1990s. Now, in the following decades, the district became a vibrant centre for creativity and hip cafés, with artists' studios, creative agencies and well-known restaurants. Street art has contributed significantly to this positive development. Most of the street art on display there has a transformative message from conservation to social issues, dealing with racism and the struggle for survival.  The art scene is interpreted by the well-known artist Jaffray Jason as follows: "In a country with high unemployment and an appalling crime rate, art is often associated with hope for a better life. Art is also a mirror of society".
Local and international artists present their works there. Young and old, unknown and international stars of the scene have thoroughly changed the image of the district. A variety of recommended colourful street art walking tours are offered on site. On these tours, we can immerse ourselves in street art and directly experience the creative power that art can develop in public space. Thanks in part to the IPAF Street Art Festival, Cape Town has become a magnificent open-air gallery. 
The art year kicks off in Cape Town in February with two major programme highlights, the Cape Town Fair, which returns for the first time since 2020 in the post-Corona year 2023, and the IPAF - International Public Art Fair, which is organised in Salt River and the centre of Cape Town.
Another prime example of the district's regeneration is the conversion of the former Old Biscuit Mill bakery into what is now a well-known and popular meeting place with many shops and restaurants, as well as a special atmosphere at the weekly markets held every Saturday with live music and culinary offerings. 
One of the most interesting Grafittis is the picture "A minor refusal". Two stylised hands miss each other in a handshake. Does the artist thereby symbolise embraces at the same time as investors embrace and expel the residents? Perhaps? The artist and street art leader Jaffray Jason summed up the current development and the residents' attitude to life with his assessment:
"No one is ashamed of our neighbourhood anymore. People are proud to be part of Woodstock."