Dead trees are given a second life
Olivier Jaffrot is a professional tree artist from France. His artworks are known throughout Europe. Jaffrot is known for his extraordinary sculptural works on trees, which he calls "living works of art". Jaffrot has developed a unique technique of cutting, shaping and preparing trees and shrubs to create unique shapes and structures reminiscent of sculptures. He combines the natural beauty of the trees with his own creativity by cutting the outer leaves, branches and twigs into shapes, in the result surprising and fascinating!
Olivier Jaffrot gives dead trees a second life. Jaffrot makes wood art, and creates unusual sculptures from dead trees. The trees have a unique character for him.
Olivier Jaffrot has chosen Treptower Park as his "studio". It is inevitable that Jaffrot works outside. Because he had been making small wooden objects for years, he wanted to enlarge them, but he didn't have the space. "It's a big studio, I can work freely here." The wood Jaffrot uses to make his sculptures comes from nature itself: Trees that fell down in a storm, others were cut down because of insect infestations and died out inside. This means that he does not have to cut down trees. Jaffrot raises central questions about our relationship with nature and about the origins of possessiveness. Jaffrot has completed four major works in more than ten years. The results are gentle, almost clinically correct. When you walk from Bulgarische Straße into Treptower Park, you enter a very special world, an open-air gallery of a special kind. Each tree tells its own story, each is unique, just like the people who pass by.
During his work, Jaffrot builds a relationship with the trees. "Wood is life, each tree is unique and tells a different story depending on its species, growth, situation or even disease," says Jaffrot. One can recognise mythical forms and figures in the artworks, dragons, snakes, Promethean conflagrations. But these are all just projections. The storm and the ravages of time determine their elaboration and form. Following the path, more and more works of art appear. Jaffrot has come here many times in the last ten years and worked the tree bodies with precise movements and with patience, in harmony with the nature of the trees. Only photographs of the first sculpture have survived. The same is true of the second tree sculpture, which was badly damaged by wind, storms, people and animals. The third tree sculpture is still intact: the moulding of a tree several metres long, refined down to the smallest detail, and covered with a protective varnish. The artist has also artfully carved a circle around a huge bare root from a fallen oak trunk into the ground - Jaffro's fourth work.
With wooden chisels and other tools, the Frenchman Olivier Jaffrot once dug out huge tree trunks, and skilfully their souls too. Tree trunks that can be walked through without smooth surfaces protruding from the trunk, with precise, even edges, waves, knots and bends. Wood art with patience and meticulousness. 
The roots, branches and trunk of the artwork appear to have been cut down.
Jaffrot's tools are chisels in various sizes, an ancient tool that can be used for particularly precise woodworking. The semi-circular curvature of the tool gives the wood the rounded shapes that characterise Jaffrot's work and creates a pleasant feel to the surface. "It's important to work in the right direction," Jaffrot explains. "So along the loops," the artist explains. He taught himself this technique. "I tried to work out the tree and the respective shapes came out," says Jaffrot. At all points there is movement, created by me and the tree.
Olivier Jaffrot himself sees his art as "somewhere between land art and street art: Like street art, it is illegal here." Throughout the years, the park rangers and the office have given him permission to do it anyway. Some time ago, however, the office unexpectedly issued an injunction and Jaffrot was informed by the park authorities: "I have to stop or they'll call the police," he said. When asked by the taz, the responsible district councillor Claudia Leistner (Greens) rowed back. Leistner told the taz that Jaffrot can continue to work in the park during this time. They are trying to find a solution.
Jaffrot's work takes longer than street art. Street art usually takes three to four hours, his sculpture takes a year or two. He loves the process and describes himself as a loner. Jaffrot: "The tree is still partly alive. There are still roots in the ground and there is still water in there." This oak tree is now becoming a natural monument - and very gradually, because the rebirth takes several months.
Jaffrot hammers tirelessly, chisels at tree roots or digs them out with a shovel. He never takes a break. In the six to nine hours he is here almost every day, he eats nothing but fruit. Jaffrot draws strength for his work elsewhere: "When I work, I listen to hard music. Breakcore, speedcore, hardcore. I'm really enthusiastic about my work," says the artist. With headphones on, he is fully concentrated on what he is doing. Perfect conditions for him.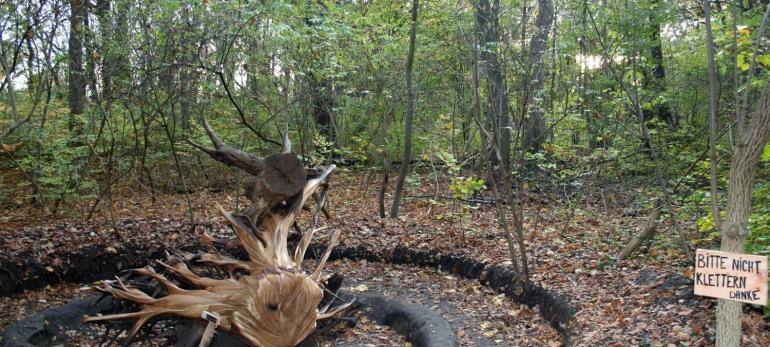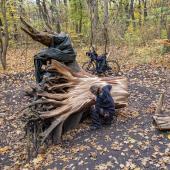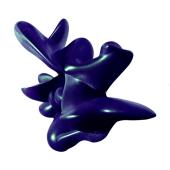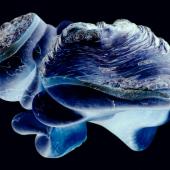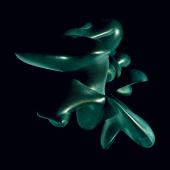 Being one with nature
He doesn't get much of the idyll that Jaffrot has declared his studio. There is a harmonious coexistence between the inhabitants of the park and the sculptor. He even gets along with the animals that sit on his sculptures.
The fact that nature has a certain task, changing it over the years and eventually even destroying it completely, is something that nature artist Jaffrot likes to incorporate into his work. He didn't even want to know what was left of his first sculpture. On the other hand, he is not angry with nature. For the most part, man destroys, "Man is the problem", Jaffrot thinks.
Jaffrot has been through "a lot of bad stuff" in recent years. He has almost given up several times. Jaffrot also admits that few people treat him with such contempt. Many people are happy with his work, he is often asked about it and praised. This gives him energy.
Over the years there has been a group of people who have supported his work. They are accessible via a QR code that he places next to his works. One can donate via this. Besides his intensive work on sculptures, there is not much time for other activities. Jaffrot likes electronic music, which he composes at home on rainy or cold days and puts on at parties. In recent years, he has lived off the income from a flat that he once bought cheaply and was able to sell again for three times the price.
Some time ago, someone suggested selling his work as crypto-art. Works of art are sold digitally. But Jaffrot then didn't hear from this person for three weeks. Often there are people who want to help him. But in the end, nothing happened. He hasn't given up hope that one day he will find someone to take care of the paperwork he doesn't like, like applying for funding, or organising marketing and sales. Jaffrot is also considering starting a crowdfunding campaign. He wants to find a way to do what would give his life meaning in the years to come with tree art.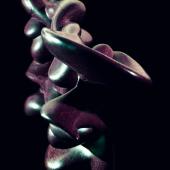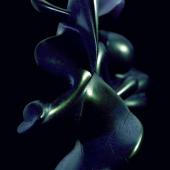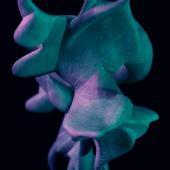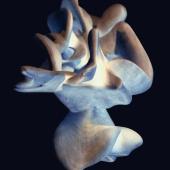 More information about tree art

What is the purpose of tree art?
The purpose of tree art is to highlight and celebrate the beauty and value of trees. It is an art form that focuses on the use of trees as materials for creative projects. These projects can be sculptures, furniture, buildings, gardens and other types of artwork. Tree art can also help protect the environment by using trees in a sustainable way.
 
What is there to say about the history of tree art?
Tree art is an ancient art form that refers to the use of trees as a means of creating works of art. There are many different types of tree art developed in different cultures and times. Some of the oldest examples of tree art come from ancient Egypt, where they were used as a symbol of fertility and rebirth. In Japanese culture, trees were seen as a symbol of beauty and harmony. In modern art, trees are often used as a means of creating landscape images.
What techniques are used in the tree art?
Various techniques are used in tree art, including:
Carving: This involves carving patterns and shapes into the tree to create a work of art. 
Painting: Different patterns and designs can be painted on the tree with paints. 
Wood carving: This involves carving different figures and objects from the wood of the tree. 
Wood turning: A special lathe can be used to turn different shapes and designs into the tree. 
Wood Joining: Special joining techniques can be used to join different parts of the tree together to create a work of art.
Wood sanding: A sanding machine can be used to create different surface structures on the wood of the tree.
Which cities and countries are leaders in the art form of tree art?
Tree art has recently become a relatively new art form again, which has become more and more widespread in recent years. Some of the leading cities and countries in tree art are:
Berlin, Germany 
London, Great Britain 
New York City, USA 
Amsterdam, Netherlands 
Paris, France 
Barcelona, Spain 
Melbourne, Australia 
Vancouver, Canada 
Tokyo, Japan 
Seoul, South Korea
Where can you learn the art form of tree art?
There are no specific courses or programmes that deal exclusively with tree art. However, you can take various courses in art, woodworking, carving and other craft skills that can help you improve your tree art skills. There are also many books and online resources that can help you learn more about the art form.
How do you recognise a good tree art artist?
A good artist for the art form of tree art should have a sense of aesthetics and a deep understanding of nature. They should also have a sense of colours, shapes and textures to create their artwork. They should also have a good understanding of the different types of trees and their characteristics to ensure that they use the right materials and techniques to create their artwork.
What competences are required or what skills should one develop to be able to practise arboriculture appropriately?
To be able to practise the art form of arboriculture appropriately, a number of skills and competences are required. Firstly, one should have a basic understanding of the different tree species and their characteristics. This includes an understanding of the different tree growth cycles and the different types of pruning. One should also have a basic understanding of the different tree art techniques, including carving, sanding, polishing and varnishing. In addition, one should have a basic understanding of the various tree artist tools and materials, including saws, knives, sanding discs, sandpaper, varnish and other tools. Finally, one should have a basic understanding of the different tree artist styles and techniques, including traditional, modernist and abstract tree art.
What are the characteristics of tree art?
Tree art is a form of art that focuses on the use of trees as materials for creative projects.  
Tree artworks can be made from a variety of materials including wood, metal, glass, stone and other natural materials.
Tree artworks can be created in the form of sculptures, furniture, buildings, gardens and other creative projects. 
Tree artworks can also be used as decoration for homes, gardens and other public places. 
Tree artworks can also be used as a symbol for a particular idea or theme.
Who were the pioneers of tree art?
The pioneers of tree art are mainly the artists who have been involved with the art form since the 1970s. Some of the most famous names are the American artist Richard Reames, the British artist Andy Goldsworthy and the German artist Uwe Rüth. They have all contributed to establishing tree art as a recognised art form.
What are the results or artworks of tree art?
Tree art is an art form that focuses on the use of trees as material for artistic works. The results can be very diverse, from sculptures and installations to painting and photography. Some examples of tree art works are:
Sculptures from carved trees 
Wood carvings 
Wooden mosaics 
Wood painting 
Wood photography 
Wood sculptures 
Wooden installations 
Wooden objects 
Wooden objects with light effects 
Wooden objects with colour and texture 
Wooden objects with metal or other materials
What criticisms or challenges does tree art face?
Arboriculture is a very specialised art form that requires a high level of expertise and skill. Therefore, it is difficult to find qualified artists who are able to deliver high quality work. 
Tree art is a very time-consuming art form that requires a lot of patience and care.
Therefore, it is difficult to deliver the work in a reasonable time frame. 
Tree art is a very costly art form as it requires many expensive materials and tools. Therefore, it is difficult to control the cost of the work. 
Tree art is a very demanding art form that requires a lot of creativity and innovation.
Therefore, it is difficult to come up with new ideas and concepts that meet the demands of the clients.
Which museums exhibit tree art?
There are a number of museums that exhibit tree art. Some examples are the Museum of Contemporary Art in Los Angeles, the Museum of Modern Art in New York, the Museum of Fine Arts in Boston, the San Francisco Museum of Modern Art, the Walker Art Center in Minneapolis, the Hirshhorn Museum and Sculpture Garden in Washington D.C., the Smithsonian American Art Museum in Washington D.C., the High Museum of Art in Atlanta, the Museum of Contemporary Art in Chicago, the Museum of Contemporary Art in San Diego and the Museum of Contemporary Art in Denver.
What is the significance of tree art for society?
Tree art has an important meaning for society as it creates a connection between people and nature. It allows us to connect with nature and enjoy its beauty. It can also be seen as a symbol of growth and renewal. Tree art can also be used as a way to beautify public spaces and create a positive atmosphere. It can also be used as a way to protect the environment and preserve biodiversity.