Guitar Music - Guitar Art
Germany's most successful guitar export Jan and Alexander met in 2007 at a flamenco guitar workshop. Subsequently they compose many albums together and meanwhile gave more than 120 concerts per year in England, Italy, Israel, Georgia, Germany, France, Spain, Switzerland, Austria, Czech Republic and Poland. A highlight and a musical highlight was certainly the performance at the Rheingau Music Festival, in the legendary Ronnie Scott's Jazzclub in London and a recording in the Abbey Road Studios in London with the Royal Philharmonic Orchestra, where already the Beatles produced songs.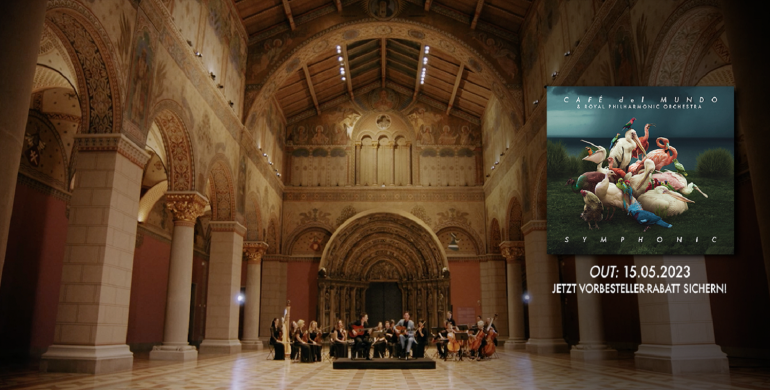 Here you can get the latest artwork from Café del Mundo!
Orpheus was the greatest singer and poet in Greek mythology. With his music he could move people, animals and even stones. His harbor playing and singing calmed stormy seas, ghastly hellhounds and convinced even the ruler of the underworld. One can definitely associate the two flamenco guitarists Jan and Alexander with Orpheus with their courageous, irresistible, sensitive and mutually inspired playing. Their music transports strong emotions and sets not only the brain but also the hearts of people in motion. The stage is their picture frame in which they act.
Music connects a common force. Visual artists experience the color sound on the canvas and musicians speak of the colors of the sounds. Pythagoras saw in colors and music simply relatives. Besides the "musical pictures" of Vermeer (Concerto) , Rembrandt van Rijn or Hieronymus Bosch (The Garden of the Earthly) may well be referred in connection with the musicians Jan and Alexander especially to the work of art by Pablo Picasso - The Guitar (1912-13) - which represents a three-dimensional idealization of music.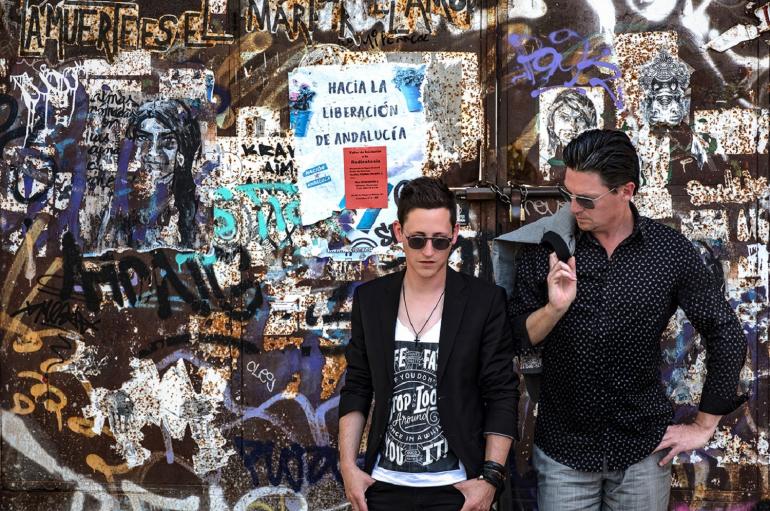 With standing ovations, enthusiastic tens of thousands of visitors honored their annual performances. In their concerts they show an unbelievable musical variety, thoughtful and exciting, on two flamenco guitars, creating a fine bond between classical music and jazz, between techno and world music. The two virtuosos complement each other like fire and ice to form a world-class musical act, creating a magical aura with their music. The listeners feel the friction and tension in the playing of the two, who strike powerful sparks when they touch.
Since 2008, Café del Mundo has been playing annual tours with band, with dancer and as a duo. The band name is derived from a concert review in which a critic wrote that he felt transported to the legendary "Café Cantate", from which the band name "Café del Mundo" was born.
Vita Jan Pascal
Born in 1975, attended the music boarding school in Münsterschwarzach, piano lessons with Father Domenikus Trautner and lessons in singing with John Porter and classical guitar with Bernhard Weber in Heidelberg. He received his flamenco guitar skills from Rafael Cortes and Mariano Martin.
 
Vita Alexander Kilian
Born in 1987, is considered a prodigy on the guitar. He received his multicultural musical education with Zaza Miminoshvili. At the age of 15 he won his first musical competition with the piece "Guarjiras des Lucia" by Paco de Lucia and in 2009 he became national winner of the Creole World Music Competition. He attended master classes with Rafael Cortes, Zoltan Tokos and Kalman Irmai, among others. In 2011 he received the artistic diploma in jazz guitar.

The two musicians constantly surprise anew with their incredible musical diversity. In 2018 they released the album "Beloved Europa". In addition to original compositions, it also includes an arrangement of Franz Schubert's "Erlkönig" for two flamenco guitars. The two musicians have their home in the Odenwald. In the recording Winterhauch, they create the atmosphere of nature, full of legends and stories, with mystical and quiet tones. A homage to their homeland.

 
Extract from Café del Mundo publications
2022: Winterhauch – der Film
2022: Merry Guitar Christmas
2021: Sofa Songs
2021: Guitar Super Nova
2020: Winterhauch
2019: Famous Tracks
2018: Beloved Europa
2015: Dance of Joy
2015: In Passion – live at Theaterhaus Stuttgart
2014: La Perla
2012: Café del Mundo
2008: Nuevo Cuarteto

Website Café del Mundo: www.cafédelmundo.de

Here you can get the latest artwork from Café del Mundo!