Interview with sumo wrestler Kyokutenzan Takeshi from Mongolia
Kyokutenzan Takeshi, born as Batmönkhiin Enkhbat on August 4, 1973, is a former professional sumo wrestler from Ulaanbaatar, Mongolia, one of the first Mongolians to join the sport in Japan. He did not manage to reach the highest wrestling class, but was considered a kind of mentor by younger Mongolian sumo wrestlers who followed him, such as Hakuhō and Harumafuji.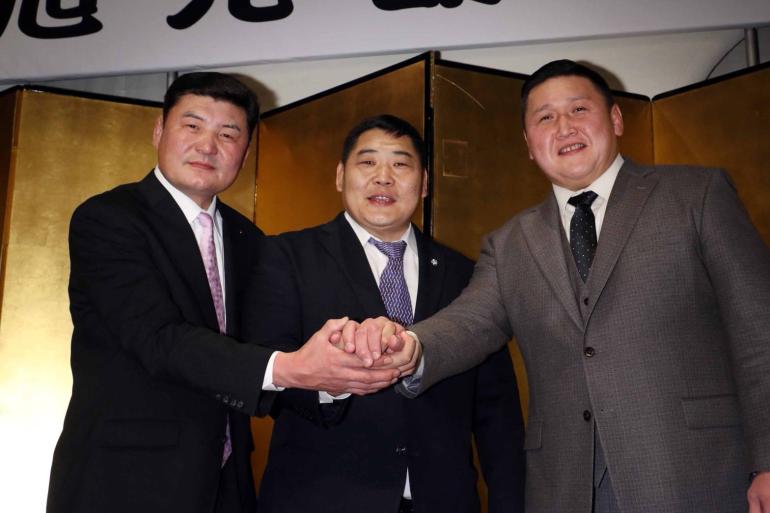 Kyokutenzan Takeshi joined sumo wrestling in March 1992, at the same time as his famous Mongolian colleagues Kyokushūzan and Kyokutenhō, who were part of the first group of Mongolians to take up the sport professionally for the first time. Kyokutenzan Takeshi was an important influence on other Mongolian rikishi. During his early months in sumo wrestling, when five of the six Mongols in the Ōshima stable ran away due to homesickness and the rigors of training and sought refuge in the Mongol embassy, Kyokutenzan was the only one who stayed. He persuaded his compatriots to return. The importance of this action was recognized by Futagoyama Oyakata, the former ōzeki and father of Takanohana and Wakanohana. Takanohana and Wakanohana were the champions during the active period of Kyokutenzan Takeshi. Futagoyama Oyakata emphasized that otherwise the subsequent line of successful Mongolian sumo wrestlers in Japan might never have developed.
Pictures of Kyokutenzan Takeshi career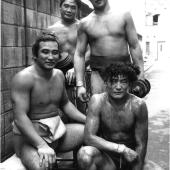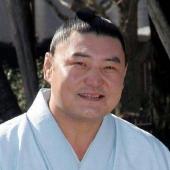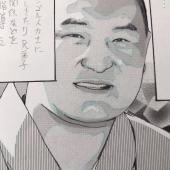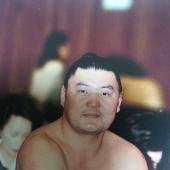 Kyokutenzan Takeshi, one of the first sumo wrestlers to represent Mongolia in the field of sumo wrestling, takes time today for an interview with artist ritual.
Good day Kyokutenzan Takeshi,
Thank you very much for accepting our invitation to appear as a guest in our magazine. I am sure that the interview with you will be very interesting.
artist ritual: Everyone knows that you are the pioneer of Mongolian sumo wrestlers in Japan. How did you initially get to know that there was a sumo wrestling competition in Mongolia? Did you have any idea about sumo wrestling at that time? 
Kyokutenzan Takeshi: I first came to Ulaanbaatar after graduating from the 1st School of Khentii Province in 1991. When I came to Ulaanbaatar, I was fighting in the Labor Association. At that time, Mongolia had just transitioned from a socialist society to capitalist society. This meant that each family bought food according to the number of their familiy members by lining up for card goods. Through a commercial in television, I got to know that there would be a sumo wrestling competition in Mongolia. At that time I had no idea about sumo wrestling. Initially, I went there without telling anyone because I thought it would be a shame if I didn't pass the test. At that time, my family lived in the countryside, and before that I lived with my family in the city. To take the exam, you had to be over 1.75 meters tall, and weigh more than 75 kg. At that time, I made 74 kg. On the morning of the competition day, I had to eat well so I would gain 1 kg. When our sumo teacher first visited Mongolia, he saw Mongolian wrestling and said that Mongolians were good at sumo wrestling, so he contacted the Sumo Association and came up with the idea of bringing sumo wrestling from Mongolia to Japan. The sumo competition I participated in was held at the Medical University Gymnasium. 160 children wrestled with each others, of which 6 kids remained: Batbayar D, Tsevegnyam N, Batjargal Ts, Munkhbold Sh, Tumendemberel L. and me. We were the first because the social difference between Mongolia and Japan was very big at that time. In Mongolia at that time, there were hardly any opportunities to cross borders, travel or study abroad. So we left Mongolia for Japan on February 22, 1992.
artist ritual: How did your parents and family react to this news at first?
Kyokutenzan Takeshi: Out of more than 160 children, six of us were chosen. Then our sumo teacher invited the chosen children and their parents to a restaurant for dinner. I hadn't told my parents about the competition, and they were far away, so I asked a friend of mine who was a secretary at the Mongolia Freestyle Wrestling Association to come along as my relative. After dinner, I immediately ran to the post office in Ulaanbaatar and called my father. The money I had was enough to call him for four and a half minutes. (Laughter) I said to my father, "There is a wrestling called sumo. I won the sumo competition and I'm flying to Japan in seven days." My father didn't believe it. On the contrary, he asked me, "Are you training well? Do you obey your teacher?" he asked. I explained again what the sumo teacher told me, "The sumo teacher said I don't need money or clothes to fly to Japan, I just need my passport," my father hung up in amazement. In the evening, when I got home, my mother called me and asked me if it was all true, and then hung up. After a few days, my whole family came to Ulaanbaatar to see me before going to Japan. My father bought me jeans, jackets and sneakers, which were in fashion at that time, because I was going to Japan.
artist ritual: How big were the social and cultural differences when you first came to Japan from Mongolia?
Kyokutenzan Takeshi: We flew from Mongolia to Japan seven days after the end of the sumo selection tournament, and spent one night in Beijing. We were very stunned when we stayed in a five-star hotel in Beijing. And then when I came to Japan, I was speechless. Japan's development was nothing like Mongolia. I had a big cultural shock when I arrived in Japan, because Mongolia was just about to leave the socialist society. When I first drove on the highway, I was very surprised. I wondered why a bridge was being built where there was no river. (Laughter) When I wrestled in Mongolia, I always had to lose weight, I was used to it. But when I came to Japan, again I had to eat a lot. It was very tiring and funny.
artist ritual: How do sumo wrestlers train? Can you also tell us about a day in the life of a sumo wrestler?
Kyokutenzan Takeshi: Basically, sumo training is very demanding. The intensity of the training is similar to sumo wrestling in competitions. That's why sumo wrestlers often get injured. It is difficult to describe a day of a sumo wrestler because sumo wrestlers do different exercises depending on their rank. For example: the lowest level sumo wrestlers get up around 5 o'clock, they clean the gym to start training. After that, the sumo wrestlers with the next higher rank get up and start their training. Finally, the yokuzana comes to the training hall to train. Sumo training continues until about 11 o'clock. The high-ranking sumo wrestlers start first in the shower. After showering, the sumo wrestlers' hair is wound up by a professional hairdresser, of course the yokuzana starts, ending the procedure with the wrestler with the lowest rank in the order. Then they eat the first meal of the day together. The sumo wrestlers with the highest rank eat first. The sumo wrestlers with the lowest rank serve them and eat last. After lunch from 2 pm to 4 pm, everyone goes to bed. This time is actually the sumo wrestlers' free time. Basically, sumo life is based on the ranks of the sumo wrestlers. The highest-ranking sumo wrestlers have their own assistants, their own rooms, and of course their salaries are high.
artist ritual: Do you remember your first match?
Kyokutenzan Takeshi: My first wrestling match was in March 1992. All the new young sumo wrestlers wrestled with each others and made a list of names. In 1992, for the first time in Japan's history, 160 young men joined sumo. Yokozuna Takanohana and Yokozuna Wakanohana were very popular. During that first tournament, almost all the other new recruits were kids who knew sumo wrestling. It was the first time I won on the sumo stage. That was how my sumo career began.
artist ritual: Five of the six wrestlers who came from Mongolia escaped, and you were left alone. At that time, the decision to stay alone must have been very difficult. What made you make that decision?
Kyokutenzan Takeshi: At the beginning, the first few months after the six of us arrived in Japan, we were homesick and discouraged by the merciless training. Sumo training was not easy. Then one day we met in a place and talked. Everyone had a beer in his hand. (Laughter) Then two of us started talking and said, "Well, I think it's better to go home." One of us already knew the way to the Mongolian embassy in Tokyo, and that's when their plan to escape to the ambassador came up. At that time, I had no intention of returning to Mongolia. I thought I would have a better future in Japan. Therefore, I decided to stay with sumo wrestling in Japan. The training was hard, but the people themselves were gentle and kind there. Actually, my goal at that time was to at least earn money to buy a house before going back to Mongolia. (Laughter) I knew the situation in Mongolia very well, so my future was in Japan. Although it was difficult, I felt that God had given me a chance to change my life. And one morning, when they ran away, I stayed in bed crying. If I had run away with them, the Japanese Sumo Association would not have accepted any more sumo wrestlers from Mongolia again. Then I went to the Mongolian Embassy in Tokyo with my teacher's wife and got Batjargal and Batbayar out of there. Three months later, the three of us flew to Mongolia with the sumo teacher and brought Tsevegniam to Japan. After that, the sumo association decided not to bring any foreign wrestlers for a while. Seven years after us, Mongolian sumo wrestler Asashyoru Davagdorj joined sumo wrestling. He became a Mongolian sumo champion in Japan.
artist ritual: How difficult was it to learn the Japanese language in the beginning?
Kyokutenzan Takeshi: At first I was wondering what to do. After a while, I started to understand a lot by combining a few sentences with gestures. Then I wanted to learn written Japanese, but Japanese has three alphabets: Hiragana, Katakana and Kanji, so I decided to just give up writing and still learned to speak. I didn't have time to learn to write at that time. The first few days were great when I was a sumo wrestler, we were the first to eat and the first to shower. After a while, we were first to get up, last to shower, and last to eat.
artist ritual: Please tell us about the funniest things you experienced as a sumo wrestler.
Kyokutenzan Takeshi: In the beginning, when I couldn't speak Japanese very well, the Japanese were very surprised when I wanted to go out for eating. The waiters were very surprised when a sumo with the Asian look of an archer in a kimono came in and ordered food. I couldn't pronounce the name of the food correctly. At that time, there were not many wrestlers from other Asian countries in the sumo area. It's so funny when I think about it. The waiters back then probably thought I was just pretending because of the language and my pronunciation.
There is another funny thing. It wasn't long after I became a sumo wrestler that we went out once. We were thirsty and went to a café. Then the waiter brought water for everyone. When we finished drinking, the waiter brought us more water. Not knowing the culture of other countries, I asked the waiter how much the water would cost. However, the water was free. The water was very clean in Mongolia at that time, we drank water there directly from rivers. Since bottled water was sold in Japan at that time, I thought we should pay for drinking this water.
artist ritual: You probably had many injuries during your time as a sumo wrestler. What was your worst injury?
Kyokutenzan Takeshi: Minor injuries are common in sumo wrestling. The soles of the feet dry out, the skin cracks, the skin warps, etc. One day, during practice, a wrestler who was wrestling with me accidentally stuck his finger in my eye, and his finger went very deep. If there had been a smartphone with a camera back then like there is today, I would have taken pictures. (Laughter) It hurt a lot, and the eye was dark and purple. After the training, I went to the hospital after eating. At that time, the doctor said, "If you had come just 30 minutes later, you would have gone blind." And immediately I underwent eye surgery. The soft tissue of the elbow joint of my right hand was also damaged. For this reason, I was operated on under general anesthesia. After the operation, they could not wake me up, I was unconscious for 30 minutes. My teacher's wife panicked and called all my sumo friends. She said afterwards that she thought I was dead. At that time, Kyokutenhō Masaru and Kyokushūzan Noboru thought about how they would tell my family if I had died. Even today, my arms cannot be fully bent.
artist ritual: Now that you are a Japanese citizen, you live a normal life in Japan. Do you ever miss the sumo ring?
Kyokutenzan Takeshi: Today I think I did what I had to do. There are many memories. Now I am retired and living a normal life in this society. I am satisfied with that. Sometimes I wake up early in the morning when I'm not working, and at that moment I think it's too late for my morning sumo workout. (Laughter) Sumo wrestling is so closely related to my life. I sometimes forget that I don't have long sumo hair now, and I make sure not to mess it up when I sleep. There are patterns of behavior that have become such habits.
artist ritual: What do you like about sumo wrestling?
Kyokutenzan Takeshi: I think sumo wrestling is very fair and has preserved its traditions very well. It is surprising that sumo wrestling belongs to the Japanese Ministry of Culture and not the Ministry of Sports. Also, I felt it was remarkable that Japanese people can obviously really appreciate people who make an effort. I think this has made sumo wrestling even more interesting and authentic, and sumo wrestling has therefore become a favorite sport for many people.
artist ritual: What are the requirements to become a sumo wrestler?
Kyokutenzan Takeshi: The general requirements are very basic, height over 175 cm, weight over 75 kg, you have to be at least 15 years old. When I first came to sumo, a 27-year-old man competed against me. The young man first graduated from university and taught at a Japanese high school, then he was successful in amateur sumo and became a professional sumo wrestler. At that time, sumo became very popular in Japan and there were many articles about sumo wrestling in newspapers. One of the interesting things about sumo wrestling is also that it can be someone younger than you who becomes a sumo wrestler before you, he can be of a higher rank, so to speak. You can say that it is an admirable culture of the Japanese people. You can also say that the idea behind this culture is to create and practice friendly competition with each other.
artist ritual: Thank you very much for letting me do this interview with you.
Kyokutenzan Takeshi: Thank you very much, it was a pleasure.
More impressions on sumo wrestling