A fantastic artist from the Palatinate
Culmann's dream garden is a unique garden architecture in Germany. During the visit, the viewer feels transported into a surrealistic world in which Culmann's connections to artists such as Salvadore Dali, whom he knew personally, Antoni Gaudi or Friedensreich Hundertwasser and Niki de Saint-Phalle are clearly perceptible. Everyday objects of daily use such as plates, cups, tiles, stones, mosaics or pieces of glass are transformed in his constructions and compositions into fantastic entities and exude a very peculiar poetry. Culmann constructs and paints his subjective world view according to his spontaneous inner ideas and visions.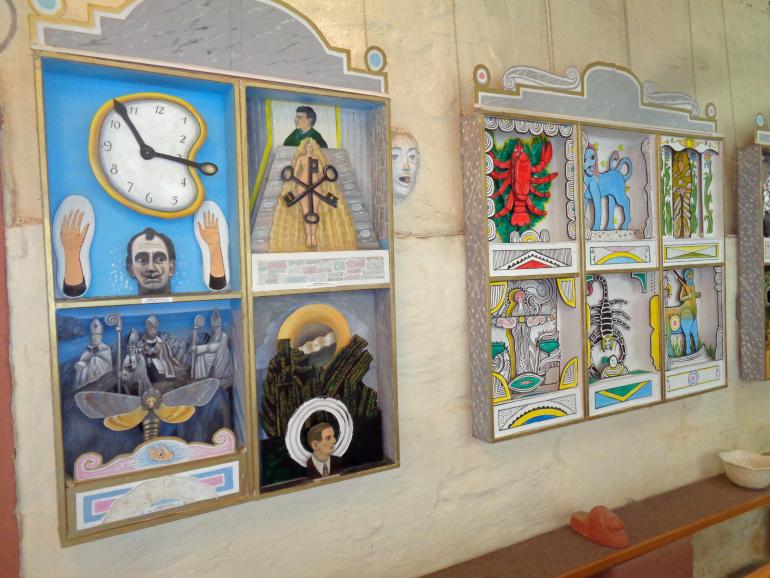 In addition to the twelve art structures and ten fountains, a colourful and fantastic temple pavilion with four-metre-high tower columns can also be admired in the dream garden since 2019.  The dream-like scenes and inner visions of the artist are characterised by another, wonderful world, apart from the current art trends. Culmann takes given natural basic forms and figures and, through his inspirations, brings us with shifts and distortions into a whimsically fantastic world. 
Otfried H. Culmann (*1949) attended the Werkkunstschule in Kaiserslautern and studied painting at the Academies of Fine Arts in Munich and Stuttgart. In 1977 he received a scholarship to the Villa Massimo (Rome). 
His birthplace, a former vicarage in Billigheim/Pfalz, houses his work and exhibition rooms (studio, workshops, art gallery). "The Man with the Arena in His Head" is the title of his first (1981) fantastic novel. 
Culmann is considered a great promoter of fantastic, visionary and surreal art. The artist has received numerous awards and honours, such as the 1st Mannlich Prize in Munich in 1976, the Prize of the Palatinate Friends of Art as well as the Picasso Medal Kaiserslautern and the Rhineland-Palatinate Ministry of Culture's "Young Palatinate Artists" Prize. 
His presentations and exhibitions are numerous worldwide. We follow the traces of his art to Munich, Berlin, Kaiserslautern, Speyer, Strasbourg, Bonn Düsseldorf, Austria, USA (Bastrop), Egypt (Cairo), Iran (Teheran), Australia (Sydney, Melbourne), Finland (Tampere, Helsinki), Tunisia (Tunis) and Morocco (Casablanca). The SWR-Landesschau reported on the artist Culmann and his dream garden in its programme "Landesart" on 18.7.2015.
The dream garden itself features works of art in garden architecture such as "The Moon Pavilion", "The Magic Gate", "The Great Sun Face", "The Casino of Secrets", "The Great Sphinx Fountain" or "The Temple of the Seers".  In the "Kunsthalle", 28 showcases hang with a "mechanical world theatre" with signs of the zodiac and Culmann's artistic "Heron". 
The visitor to the Dream Garden encounters a colourful, somewhat anarchic but also poetic garden architecture never seen before, which appeals to a deep-seated emotional world in the viewer.